voter information
VOTING PROBLEMS:
If you experience problems with the machines when voting or do not see an election listed for which you think you are eligible to vote, please notify the Commissioners BEFORE you cast your vote. If you have any questions rgarding Early Voting, please contact us by calling (985) 345-3717 in Hammond, or (985) 748-3215 in Amite.
Identification Card:
In order to save time and make your voting experience more enjoyable, please check your voter identificatioin card to make sure the information is correct on it. For your convenience, the location of these informational items are shown in RED on the sample Voter ID card.
Due to the federally required re-apportionment and re-districting done recently, it is quite likely that either your Precinct has changed, or your Polling Place Location has changed, or Both. In order to learn what your precinct number and polling place will be for elections, you will need to look on your new voter I.D. card. If your information is not correct, call the Registrar's Office
Louisiana ID: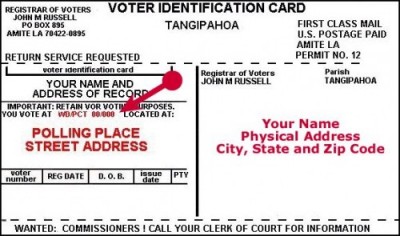 Remember when you go to the polls to cast your vote in an election, be sure to take a driver's license, a Louisiana Special ID, or some other generally recognized picture ID. If you do not have a picture ID, our office has furnished identification affidavits to be completed at each precinct. Should any problems or questions arise, for example your name is not in the precinct register and you think it should be, ask the Commissioner(s) to call the principal office of the Registrar of Voters. The Commissioners will have the phone number in their precinct binder
Voting Rights:
Your voting rights are VERY IMPORTANT to us. Your exercise of them is CRITICAL to everyone. For most people in our society, their vote is their only voice in the management of their government. Use it at each opportunity.Your participation in the electoral process is vital to our Towns, Parish, State, and Nation. Please ensure that your voter registration information is current and accurate. You should contact our office when you change addresses, wish to affiliate with a political party, change your party affiliation or other such matters which may affect your registration status. But there are deadlines established by law beyond which the changes cannot be made.
Helpful Links:
Public Affairs Research Council of Louisiana is an independent voice, offering solutions to critical public issues in Louisiana through accurate, objective research and focusing public attention on those solutions
Louisiana Secretary of State Elections and Voting page is a clearinghouse for all elections-related information, from elections and voter registration information to statistics and educational materials.
ON ELECTION DAY
Tuesday elections
Polls open 6:00 am to 8:00 pm
Saturday elections
Polls open 7:00 am to 8:00 pm
Voters in line at 8:00 pm will be allowed to vote
Bring your PICTURE I.D.
ELECTION RESULTS
CONTACT ROV
Registrar of Voters Amite Office
Amite Courthouse Room 103
110 North Bay Street
Amite LA 70422
(985) 748-3215 phone 
(985) 748-3839 fax
Registrar of Voters Hammond Office
Tangipahoa Parish Gov. Building
15475 Club Deluxe Road
Hammond LA 70403
(985) 345-3717 phone
(985) 902-7544 fax
Mailing Address
Registrar of Voters Office
P.O. Box 895
Amite LA 70422